Seth Rogen is the 28 year old Canadian actor that plays the Green Hornet in the film by the same name. He comes from a comedy background and like so many comedians he was a little overweight before taking on the role as the masked crime fighter.
In the Green Hornet, newspaper publisher Britt Reid lives a secret second life as a masked crime fighting comic strip superhero. To aid him in his quest he has his trusty sidekick Kato, who certainly puts the kick into sidekick! Bruce Lee fans will remember that Bruce Lee played the role of Kato in the television series in 1966/67 on ABC.
The new film features Jay Chou as Kato and Camerian Diaz as Lenore "Casey" Case. This film had been planned for a long time with rumours in 2005 of Jake Gyllenhaal and Jet Lee playing the leading roles.
So, how did Seth Rogen get in shape to play a crime fighting super hero? Well, to be truthful he has been very cagey about it. Like all Hollywood actors he has employed a professional fitness trainer to guide him. His personal trainer is Harley Pasternak who has also helped Jennifer Hudson, Robert Downey Jr, Megan Fox, Halle Berry, Alicia Keys, Kate Beckinsale and many many more.
Harley Pasternak also developed the 5-Factor Diet and 5-Factor Fitness systems, although in an interview with Dayna Devon on Extra he said that he dropped a few factors and only followed about 1 1/2 of them. The 5 Factor Diet is a 5 week plan that sets 5 meals per day with 5 ingredients per meal. Workouts are 25 minutes each and every 5 weeks you are allows 5 cheat days.
The Fitness Regime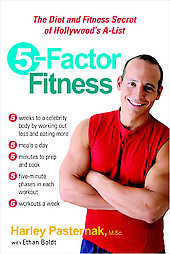 Harley Pasternak fitness workouts combine strength training with cardio training in five five-minute intervals. Workouts are short and intense and are designed so that you stay motivated with the program. It is also designed so that you can do all the workouts with just a workout bench and a pair of dumbbells.
Seth Rogen really slimmed down and toned up for the role as the Green Hornet. His transformation was certainly not like Christian Bale's transformation for Batman Begins which saw him pack on mountains of muscle.
Seth Rogen focussed on fat reduction and fitness with some strength training to improve his athleticism. He did perform his own stunts in the film so a reasonable amount of physical conditioning is required for that. He said in one interview that really his weight loss was mostly down to eating a healthy diet and being a bit more active.
Really that is the best advice a Hollywood actor could give, you do not need to be super fit and workout 2 hours a day, just eat a healthy diet and be more active and you will be a healthy weight. Or you can just click on the book image above to order the 5 Factor Fitness book from Amazon.com.
Photo by Phil Konstantin.
Jon Wade studied Health Sciences at the Open University, specializing in Nutrition, Obesity, Diabetes, and COPD, and also has a BSc. from Coventry University. He has been researching and writing on fitness, diet and health since 2006, and has published an eBook, The Low GI Diet Plan.