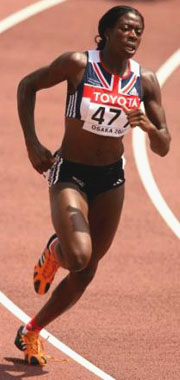 Christine Ohuruogu is one of Britain's best athletes. Her personal best of 49.61 in the 400m ranks her third amongst British women runners.
In 2003 Ohuruogu was a bronze medallist at 400m at the European Junior Championships. She became the AAA champion in the 400m in 2004, was a semi-finalist in the 400m at the Athens Olympics of 2004, also taking part in the 4 x 400m relay team that finished 4th.
In the 2005 European Under 23 Championships she took the silver medal, losing individual gold by a hundredth of a second. She also won silver at 4 x 400m relay.
In July 2006, Christine Ohuruogu missed a random drug test administered by UK Sport, and was subsequently banned from competitive athletics. However, the ban was eventually lifted, and she won her rightful place in Team GB for the Beijing games.
Christine Ohuruogu Training and Workouts
In the run up to the Olympic Games Christine Ohuruogu was training six days per week at the Lee Valley Athletics Centre. The bulk of her Beijing preparations came from training rather than taking part in races.
"I really believe once you train well, you can race well too. I'm just solely focusing on the day to day at the moment." Christine Ohuruogu, 2008.
To improve sprinting athletes look to improve their overall strength, specific strength, muscular endurance and intensive interval training. Sprinters and short distance runners have some of the finest physiques you'll see at the Olympic Games.
There are three core weight training exercises that help improve sprinting:
Barbell Squat
Standing Heel Raises
Romanian Deadlifts
The purpose of weight training is to increase muscle size, as larger muscles can cope with acidosis more efficiently, which is essential for sprinting. During sprinting, the cells produce lactic acid as they use glucose for energy in the absence of adequate oxygen.
When too much lactic acid remains in the muscles, the athlete quickly starts to feel ill. The signs of lactic acidosis are deep and rapid breathing, vomiting, and abdominal pain. This is the reason that we so often see athletes collapse at the end of a sprint – their muscles are flooded with lactic acid.
Speed Endurance is the main focus of training for the 400m. Speed Endurance is running at an intensity sufficient to create a high oxygen debt, so that there is a definite lactic acid build up. This workout is vital to good 400m running.
For training, distances can vary from 100 to 600 meters. The number of repetitions is determined by multiplying the race distance by 2.5; so for 400m speed endurance training a distance of 1000m is run in each interval.
The recovery period will usually be around 10 minutes, to allow recovery. This drill is designed to improve Lactic Tolerance.
Speed Endurance Workouts for 400m
10 x 100m – 5‑10 minutes rest
6 x 150m – 5‑10 minutes rest
5 x 200m – 10 minutes rest
4 x 300m – 10 minutes rest
3 x 350m – 10 minutes rest
2 x 450m – 10 minutes rest
You should have a good level of general fitness before Lactic Tolerance training will benefit you.
Strength Endurance Workouts for 400m
Strength endurance is an excellent way to improve Lactic Tolerance. This routine is typical of a 400m training program:
6 x 150 meter hill
6 x 60 stadium steps
6 x 15 second duration long rope runs
The 400m is one of the most intense and demanding sprints in athletics, as it requires a perfect combination of speed, strength and endurance. 100m sprinters do not need to deal with the lactic acid problems that 400m sprinters do, and longer distance runners pace themselves to avoid acidosis.
Jon Wade studied Health Sciences at the Open University, specializing in Nutrition and Obesity. He has trained in many martial arts, including kickboxing, kung-fu and karate, has played cricket and plays badminton. He started weight training to support his martial arts during the 1990s and still lifts today. He has been researching and writing on fitness, weight training and health since 2006.