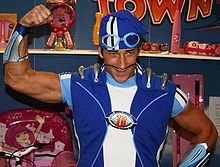 Lazy Town has become a very popular children's TV show and is now aired all over the World. Many parents are asking, who is Sportacus?
Sportacus helps the children of Lazy Town get active and eat healthily. He can do back flips and handstand push ups with ease and can even balance on one hand. He is in amazing shape and a fantastic role model for kids and adults alike. But who is Sportacus?
Sportacus is Magnús Scheving
Sportacus is played by Magnús Scheving who was an Icelandic aerobic gymnastics champion and is now the creator and producer of Lazy Town. He was born in 1964 and grew up in a small Icelandic town called Borgarnes. In 1992 he was Icelandic's national men's individual aerobic gymnastics (also known as sports gymnastics) champion and in 1993 he became the Scandinavian champion. Following these successes he went on to win the European Gymnastics Championship 2 years running in 1994 and 1995. He is 5 foot 7 inches tall, which is an excellent height for a male gymnast.
How Did His Training Start?
Magnus used to run errands in his home town as a child. He used to deliver messages to people around his town by running up to 5km each way.
Later his best friend set him a challenge as part of a bet. The challenge was to learn aerobics and become good at it. He won that challenge. Incidentally, he set his friend the challenge of becoming an excellent billiards player.
He now admits that training is hard. He only trains to play Sportacus, but this requires a lot of intensive gym work. He can still do a variety of gymnastics exercises including back flips, one handed push ups, hanging leg raises.
How Was Sportacus Created?
Magnús Scheving wanted to create a sporting role model for children. He started by writing a book about why exercise is fun. This eventually led to the development of Lazy Town. He and his wife are the creators of Lazy Town.
Magnús Scheving Video Bio
Other Lazy Town Characters
Robbie Rotten
Robbie Rotten is played by the Icelandic actor Stefán Karl Stefánsson. He studied at the Icelandic Academy of Arts and then joined the National Theater of Iceland, where he first played Robbie Rotten in the original stage version of Lazy Town.
Stephenie
Stephenie is played by Julianna Rose Mauriello. She was born in New York and has appeared in several Broadway shows since her appearance in Lazy Town. Her first Broadway appearance was in Oklahoma! in 2002. She was just 13 when Lazy Town was made. She is a keen dancer, and has learned ballet, jazz dance, tap dance and Irish step dancing. She has also been involved in gymnastics, which helped her land the role as Stephenie in Lazy Town, although she mostly just sings and dances in the show.
The Russian Villain in the Film The Spy Next Door
Magnús Scheving's antics on Lazy Town caught Jackie Chan's eye and he landed himself a role as the Russian villain in Jackie Chan's latest comedy, martial arts, action caper, The Spy Next Door. He said that this was a new challenge for him. Working with Jackie Chan was very different to his role in LazyTown and involved a lot of physical stunts as well as the comedy fighting scenes.
Photo by Daniel C. Griliopoulos
Jon Wade studied Health Sciences at the Open University, specializing in Nutrition, Obesity, Diabetes, and COPD, and also has a BSc. from Coventry University. He has been researching and writing on fitness, diet and health since 2006, and has published an eBook, The Low GI Diet Plan.