Michael Phelps, the 23 year old American swimmer, has been hailed as the greatest Olympic athlete of all time. Michael Phelps consumes a staggering 12,000 calories each day. His breakfast typically consists of three fried egg sandwiches topped with cheese, lettuce, tomatoes, fried onions and mayonnaise. Phelps trains for six hours a day, six days a week, without fail.
Lance Armstrong won the Tour de France a record-breaking seven consecutive years, from 1999 to 2005, and is the only cyclist ever to win seven times. What is most inspiring is that he overcame cancer, and then trained to levels that were previously unheard of to attain his amazing physical fitness, and the mental mindset required for long distance road racing.
He is now the reigning Olympic champion over 100m, 200m and 400m relay, and holds both world and Olympic 100m records with a time of 9.69 seconds.
Bolt uses a combination of plyometric training and weight training to build functional strength. The core exercises for improving performance over 100m and 200m are detailed here.
Rebecca Adlington is Britain's most successful swimmer in a long time. Rebecca has dedicated herself to a gruelling training regime.
In the run-up to the Beijing 2008 Olympic Games, she followed a weekly training plan, with 2-3 workouts per day. Sunday is total rest day. read it all here.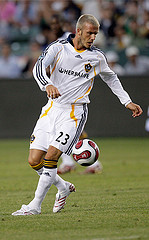 David Beckham's well toned physique is due to three essential components to a perfect body: strength training, cardio/endurance training, and diet/sports nutrition.
In some ways David Beckham's body is similar to that of the greatest fitness icon of all time, Bruce Lee. David Beckham has minimal body fat, well toned, but not overly bulky muscles, and a lean and lithe appearance.
Gavin Henson has truly become a household name throughout the UK and is fast becoming recognized as a world class player who thrives on pressure within the international scene.
His success is down to a strict diet, early morning workouts, a lot of time in the gym, plenty of relaxation and regular massages.
Josh Lewsey MBE (full name, Owen Joshua Lewsey) is an English rugby union footballer who plays fullback, wing, centre or fly half for Wasps and England. He is also one of Rugby's most athletic players, with an incredibly toned physique. Rugby is a rigorous game to play, and requires speed, strength and stamina.
Tennis players have to be "fighting fit" just like solders and martial artists. Tennis players should try to balance their workouts with sessions concentrating on muscular endurance, strength, flexibility and cardio. High intensity interval training and circuit training geared to tennis are ideal.
Jon Wade studied Health Sciences at the Open University, specializing in Nutrition and Obesity. He has trained in many martial arts, including kickboxing, kung-fu and karate, has played cricket and plays badminton. He started weight training to support his martial arts during the 1990s and still lifts today. He has been researching and writing on fitness, weight training and health since 2006.